GUITARHYTHM ACTIVE FLY INTO YOUR DREAM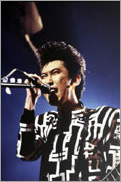 GUITARHYTHM ACTIVE FLY INTO YOUR DREAM
<MUSICIANS>
Guitar&Vocal:布袋寅泰
Guitar:成田 忍
Bass:浅田 孟
Drums:椎野恭一
Keyboard:小森茂生
Manipulator:藤井丈史
<DATE&PLACE>
1991
09.30 群馬県民会館
10.01 長野県県民文化会館
10.02 新潟県民会館
10.04 観光会館
10.10 宇都宮文花会館
10.17 大阪城ホール
10.18 大阪城ホール
10.21 日本武道館
10.22 日本武道館
10.24 仙台サンプラザ
10.28 鹿児島市民文化ホール
10.30 福岡サンパレス
10.31 福岡サンパレス
11.03 静岡市民文化会館
11.11 京都会館 第一ホール
11.14 札幌厚生年金会館
11.17 CLUB CITTA 川崎
11.18 名古屋ボトムライン
11.19 名古屋ボトムライン
12.02 ロンドン TOWN&COUNTRY CLUB
12.09 大阪W'OHOL
12.10 大阪W'OHOL
12.15 香川県県民ホール
12.16 松山市民会館
12.19 広島厚生年金会館
12.21 倉敷市民会館
12.23 名古屋国際会議場センチュリーホール
12.24 京都会館
1992
1.10 名古屋国際会議場センチュリーホール
1.13 日本武道館
1.14 日本武道館
1.16 日本武道館
1.17 日本武道館
<SET LIST>
[ツアー前半(1991年日本武道館)]
LEGEND OF FUTURE (SE)
GUITARYTHM REPRISE (SE)
BEAT EMOTION
PRISONER
WAITING FOR YOU
SLOW MOTION
PARADISE
DEVIL'S SUGAR
SPHINX
ANGEL WALTZ
YOU
LOVE THEME from BALDE RUNNER
STARMAN
METROPOLIS
C'MON EVERYBODY
BEAT SWEET
DREAMIN'
NOT FOR SALE
DANCING WITH THE MOONLIGHT
FLY INTO YOUR DREAM
[ENCORE-1]
GLORIOUS DAYS
RADIO! RADIO! RADIO!
[ツアー後半(1992年日本武道館)]
LEGEND OF FUTURE (SE)
GUITARHYTHM REPRISE (SE)
BEAT EMOTION
PRISONER
WAITING FOR YOU
SLOW MOTION
PARADISE
DEVIL'S SUGAR
ANGEL WALTZ
YOU
LOVE THEME from BALADE RUNNER
STARMAN
METROPOLIS
C'MON EVERYBODY
DRIVIN' TO YOUR HEART TONIGHT
MERRY-GO-ROUND
DANCE CRAZE
NOT FOR SALE
DANCING WITH THE MOONLIGHTT
FLY INTO YOUR DREAM
[ENCORE-1]
GLORIOUS DAYS
RADIO! RADIO! RADIO
[ENCORE-2]
GUITAR LOVES YOU
GUITARHYTHM